Also Inquire About: Art Miles Project's Touring Mural Exhibitions.
THE ART MILES MURAL PROJECT:
22 Years • 5,000+ Murals • 500,000+ People • 100+ Nations
Bringing people together and healing hearts globally to inspire change through Mural Art.
THE ART MILES MURAL PROJECT
In Association with CreativeWell, Inc. PRESENTS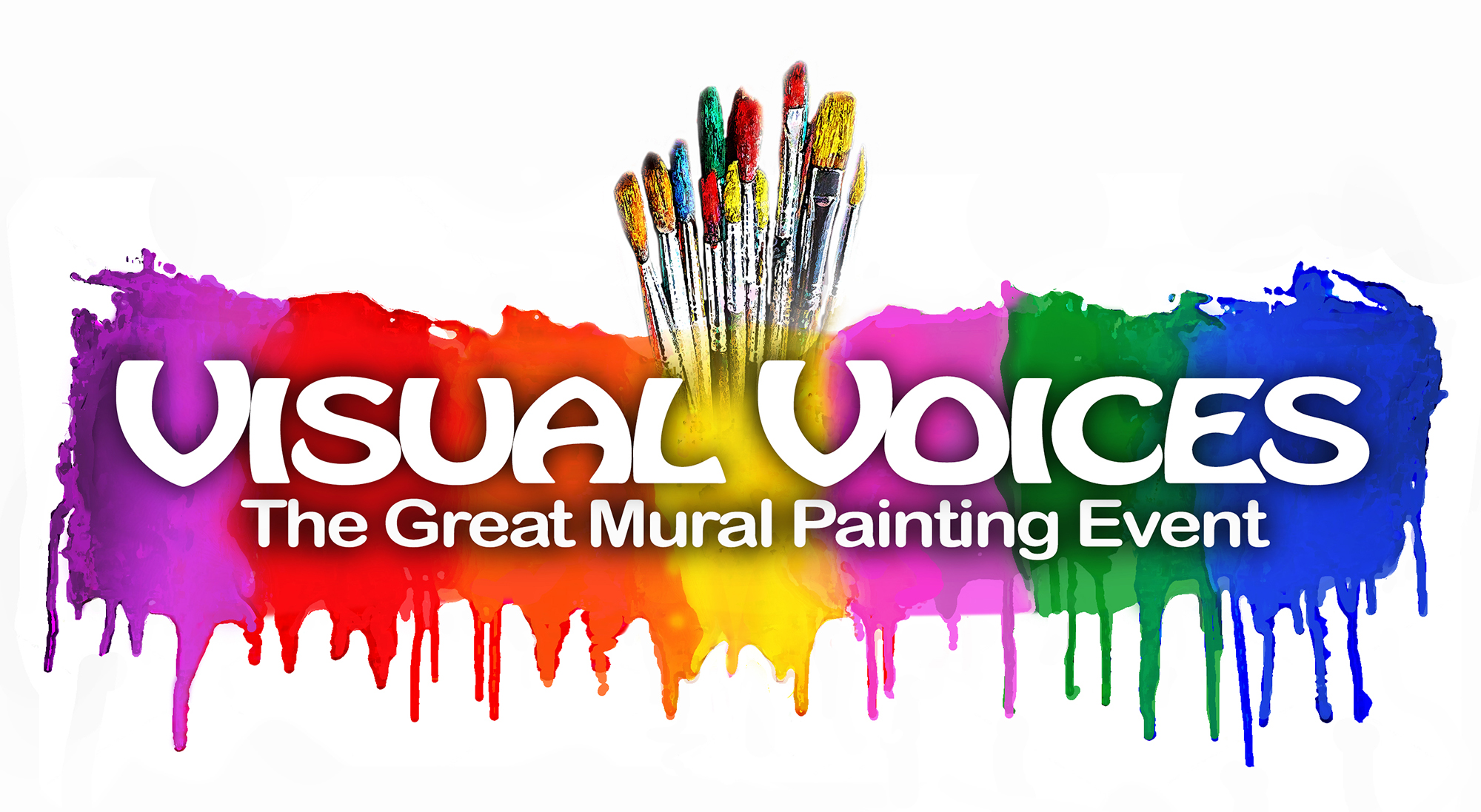 AN INTERACTIVE MURAL PAINTING EVENT TO BRING PEOPLE TOGETHER.

WE PROVIDE:
•A 5'x20' CANVAS & ALL PAINT, BRUSHES
(Other canvas sizes and event configurations are available)
• OUR NOTED ART MILES MURALIST FACILITATES THE EVENT & DESIGNS THE MURAL WITH YOU
• A TALK BY OUR MURALIST

Perfect for:
• College or University Campus-wide event, Orientation, Family Weekend or Homecoming
• Any Celebratory History Month, Social Justice or Environmental Themed Event;
• Museum, Zoo, Aquarium or Festival Community Engagement Program
• Corporate or OrganizationTeam Building & more.

OUR MURALIST Facilitator designs the mural with you to fit the theme of your event. Our muralist then outlines it on the canvas. Those attending then contribute their collective brush strokes to complete the mural. Then, consider hanging it in a prominent location to share with your community.
ART MILES MURAL PROJECT — THE BACKGROUND:
Joanne Tawfilis started The Art Miles Mural Project with her husband over 25 years ago while in Bosnia heading a United Nations project to help lift widows out of their trauma with projects of economic independence. In addition to having an MBA, she also had an Ph.D. in Fine Arts with a concentration in portrait painting. Joanne volunteered at a local orphanage where she taught kids how to paint. Three months into her work with the children, the kids asked if they could paint a large painting.
Joanne reached out to one of the people running the orphanage, which had been repaired by US troops after it had been badly damaged during the war and asked where she might find material to make a canvas. She was led to a linen closet. Opening on of the bed sheets, Joanne was startled to find it riddled with holes. Asking why kids were sleeping on these damaged sheets, she was told that the holes were from the bombing and shrapnel during the war. Joanne took some of the sheets and found a 7-gallon can of flat white paint left by the US soldiers. The kids now had their canvas and painted a mural, a triptych that they called "Yesterday, Today & Tomorrow."
After completing her UN assignment in Bosnia, Joanne was inspired by the kids' mural to help others paint murals to express their visual voices about hope, healing, and peace. The Art Miles Mural Project was born. Throughout the years, the number of murals painted with the Art Miles Mural Project grew to (literally) form twelve miles of themed murals. Each mile focuses on one of the mural themes: children, women, multi-cultural lives, indigenous and other groups of people, the environment, peace, among others.
In the past 22 years Joanne's Project has inspired the painting of over 5,000 murals by more than 500,000 people from over 100 countries, all on social issues and cultural themes of hope, healing, and peace. The murals have expressed the Visual Voices of hundreds of thousands of people, ranging from professional artists, school children and people of all ages who joined together in communities world-wide, or individually, painting murals to express their deepest concerns for their own and others' lives and/or to shed light on the wide-ranging challenges facing everyone on our planet.
In 2014, Joanne opened the Muramid Mural Museum in Oceanside, CA; the world's first mural museum. The new home for The Art Miles Mural Project is the Muramid Arts and Cultural Center opening fall of 2022, Joanne was appointed the California State representative to the UNESCO Center for Peace, which is a World Federation. She agreed for the California chapter to be located at the Muramid Arts and Cultural Center. The museum will add to its name "& UNESCO Center for Peace.

The project was endorsed by UNESCO, which made it an official UNESCO project, with 501C-3 non-profit status. The Art Miles Mural Project has facilitated hundreds of mural painting events throughout the United States and globally for decades

OUR OTHER MURALIST FACILITATORS & SPEAKERS:
MARILYN HUERTA is a passionate artist and huge advocate for the arts. She is a painter and loves mixed media but also enjoys sculpture, photography and graphic design. She has a BA degree in Visual and Performing Arts and a Master of Arts in Sociological Practice where her research was focused on art healing and storytelling with and for our military service members, veterans and families. She teaches art healing courses through the CSU Shiley Haynes Institute for Palliative Care and uses art as a tool to help others to connect, communicate and cope. Marilyn has been involved in a variety of mural projects and enjoys working with people who love creating art or just simply has an appreciation for the arts. Marilyn likes to paint in bold, bright, positive colors as a means to inspire others. She served on many art committees and facilitated numerous community art projects. Marilyn believes that creativity should be woven into the threads of all aspects of life. She lives in Oceanside, CA.

YAGIZAW YEGGY MICHAEL is an international, award-winning artist whose work has been exhibited widely throughout Africa, Europe and North America and his works are in public and private collections. Yeggy's vision is to provoke questions about natural cycles, provide a sense of place and to reflect on the movement of time. His paintings are personal and positive contacts for vibrant thoughts and spiritual moments. In public art Yeggy various materials like metal, stone, glass, tile, paint, wood to reinterpret the abstract, cyclical nature of all things. Sharing his work with spaces of infrastructure, is the synthesis of a long-term relationship and embedded in it; the very moment in history that prolongs its memory. He lives in Seattle, WA.

BENJAMIN SWATEZ, Muralist, is the Founder and Director of multiple creative therapy projects with a focus on people facing adversity in conflict zones, refugee camps, catastrophe zones, orphanages, homeless shelters, safe homes and disability centers worldwide. He has painted large scale murals in over thirty-five countries for embassies, government buildings, schools, airports, community centers, hotels and so forth. His art has been exhibited in over 80 international art shows on four continents and in 13 museums of contemporary art. An inspirational speaker and a celebrated international painter, he is now working on his Ph.D. in Peace Building/Conflict Transformation through Expressive Arts Therapy.

MARIO TORERO is an artist and activist, most known over the last 45 years for an extensive body of socially conscious mural work produced in different cities throughout the United States and around the world. With a long history of involvement in both local and global arts and progressive movements, Mario has come to be seen as a legendary figure with deep roots in the San Diego cultural arts community. As a co-founder he has contributed more than twenty standing murals at Chicano Park and three sculptures; other murals devoted to social awareness continue to appear in different parts of the County. Mario is also a founding and continuing member of Centro Cultural de la Raza in Balboa Park, and was a co-founding board member and Arts Commissioner for the San Diego Commission of Arts and Culture. Over the years, he has led several national and international artistic and cultural exchanges, all the while developing his unique artistic style, which he calls Cosmic Art. He is the son of beloved San Diego artist Guillermo Acevedo, Mario continues to paint, teach, curate shows, create murals and organize community art intervention installations, bringing meaning and vigor to the term "Artivista." He lives in San Diego, CA and Costa Rica.
Art Miles Mural Project - Women: The Power of Murals
Art Miles Mural Project selection of the Project's murals about women from around the world
Art Miles Mural Project - Sampling of Children's Mural Mile
Art Miles Mural Project murals from all over the world with messages of HOPE, KINDNESS, LOVE & UNDERSTANDING on 5 x 12 foot canvases.
Joanne Tawfilis, Co-Founder, Art Miles Mural Project: TEDx Painting Outside the Lines
Joanne Tawfilis, Co-founder, Art Miles Mural Project speaks about the origin of the Art Miles Mural Project