Buzz Bissinger is among the nation's most honored and distinguished writers. In his American classic Friday Night Lights, he chronicled Permian High School in Odessa, Texas, legendary for routinely turning a group of underachievers on the football field into Texas state champions. His latest book, Mosquito Bowl, is set in the atmosphere of World War Two and Okinawa (240,000 died in 82 days including Americans, Japanese and Civilian) and a group of exceptional Marines who in their previous lives had been exceptional college football players. Two Marine regiments played an improbable football game against each other on Guadalcanal on Christmas Eve of 1944 as close to the real thing as you can get. Three months later they shipped out for Okinawa. Of the 65 who played, 15 were killed.
In A Prayer for the City, he chronicled the herculean efforts of one of the country's most unique and charismatic politicians, Mayor Ed Rendell of Philadelphia, to save a dying city. In his memoir Father's Day, he wrote about the remarkable journey of his son Zach: weighing one pound and eleven ounces at birth and born with trace brain damage because of 13 weeks' prematurity, he now lives a thriving life in his mid-thirties because of his strength and courage and resilience and refusal to quit.
In addition to talks based on each of his books, a charismatic speaker, Bissinger also offers the talk, What it Takes to Be Great: A Unique Journey into the Hearts and Minds of the World's Greatest Athletes and Remarkable Others. It offers both inspirational and a life-changing lessons for what all of us yearn to pinpoint. Over the course of his illustrious career, Pulitzer Prize winner and bestselling author Buzz Bissinger has talked at length with some of the world's greatest athletes to define the singular qualities that makes them so great. The list includes LeBron James, Serena Williams, Tony LaRussa and Albert Pujols, among others. Because of the depth of his incredible work, the list is not only confined to athletes.

A longtime contributor to Vanity Fair, his exclusive July 2015 article, "Caitlyn Jenner: The Full Story," became a force for transgender visibility worldwide. He is co-author of Jenner's memoir The Secrets of My Life. His exclusive Vanity Fair cover story on Serena Williams was published on June 28, 2017

Buzz has been a reporter for some of the nation's most prestigious magazines and newspapers. He is a long time contributor to The New York Times, New York Times Magazine, Wall Street Journal, The Philadelphia Inquirer and Sports Illustrated.
He is a recipient of the Pulitzer Prize, Livingston Award, American Bar Association Silver Gavel Award, and National Headliners Award, and he was a Nieman Fellow at Harvard University.
A native of New York City, Buzz graduated from Phillips Academy in Andover in 1972 and the University of Pennsylvania in 1976. His journalism career began at the Ledger-Star in Norfolk, VA. He then moved to The St. Paul Pioneer Press and later The Philadelphia Inquirer. It was at the Inquirer in 1987 that he and two colleagues won a Pulitzer Prize for reporting a six-part investigative series on the Philadelphia court system.
Buzz's teleplay and screenwriting work includes collaborations with directors Alan Pakula, Peter Berg, Greg Hoblit, Todd Field and Tim Kring. Buzz also spent the 2000-2001 television season in Los Angeles as a co-producer and writer for the long-running television series NYPD Blue. His August 2007 article "Like the Wind," about the saga of 2006 Kentucky Derby winner Barbaro, was optioned by Universal Pictures. In addition to Friday Night Lights, his work Shattered Glass was also made into a critically acclaimed film. Three more are in active development.
In 1988, Buzz left the Inquirer and moved to Odessa, Texas to write Friday Night Lights, a book about the impact of high school football on small-town life. The New York Times number one bestseller, published in 1990, has sold roughly two million copies and is still in print. In April 2012, he published the follow-up e-book, After Friday Night Lights: When the Games Ended, Real Life Began.
Buzz worked as an investigative journalist for The Chicago Tribune from 1990 to 1992. In 1992, he returned to Philadelphia to begin work on A Prayer for the City. Granted unprecedented access by then-Mayor Edward G. Rendell, Buzz's book, five-and-a-half years in the making, garnered critical acclaim nationwide and was hailed as a classic on politics and urban America.
Three Nights in August, about major league baseball and the timeless beauty of the game through the eyes of legendary St. Louis Cardinals manager, Tony La Russa (Houghton-Mifflin, 2005) It spent four-and-a-half months on the New York Times Bestseller List and has been hailed as one of the finest books on baseball for more than a decade. A film version of Three Nights in August is in development.
Shooting Stars, written with NBA basketball great LeBron James (Penguin Press, 2009). It tells the story of James' high school career where he and his four best friends won a championship.
His book, Father's Day: A Journey into the Mind and Heart of My Extraordinary Son (Houghton Mifflin Harcourt, 2012), chronicles the lives of his twin sons. Born 13 weeks premature in 1983 and weighing less than two pounds, they have lived diametrically opposed lives. After obtaining his Master's in education from the University of Pennsylvania, Gerry is now a public school teacher while Zach, because of oxygen deprivation at birth, suffered trace brain damage and struggles every day with enormous learning disabilities. The book, will resonate with any parent who has a child who is different. And "all" parents will recognize themselves in Buzz as he wrestles with the questions that tug at every father and mother as their children grow up: When do I step in? When do I step back? How do I hold on? How do I let go? Offering a trove of new insights about the challenges and value of difference, and about parental love and angst, Father's Day is a road story like no other.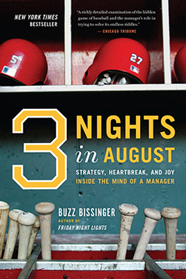 3 Nights in August
Three Nights in August captures the strategic and emotional complexities of baseball's quintessential form, the three-game series. As the St. Louis Cardinals battle their archrival Chicago Cubs, we watch from the dugout through the eyes of legendary manager Tony La Russa, considered by many to be the shrewdest mind in the game today. Drawing on unprecedented access to a major league manager and his team, Buzz Bissinger brings a revelatory intimacy to baseball and offers some surprising observations.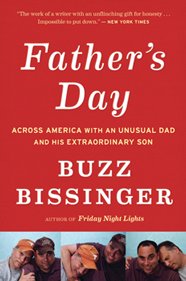 Father's Day
Buzz Bissinger's twins were born three minutes—and a world—apart. The oldest is a graduate student preparing to become a teacher, while his younger brother Zach is a savant, challenged by serious intellectual deficits but blessed with rare talents: an astonishing memory, a dazzling knack for navigation, and a reflexive honesty that can make him both socially awkward and surprisingly wise. Father's Day is a powerful account of Buzz and Zach's cross-country road trip, revisiting all the places they've lived together, but, more importantly, a father's attempt to to see the world through his son's eyes - a universal tale of the bond between parents and children.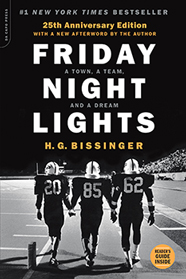 Friday Night Lights
Buzz Bissinger's #1 New York Times bestseller Friday Night Lights has sold over 2 million copies and been made into a feature film and inspired the TV series. it is the timeless account of the the winningest high-school football team in Texas history. Odessa is a socially and racially divided community who's fragile economy follows the treacherous boom-bust path of the oil business. In bad times, unemployment barrels out of control; in good times murder rates skyrocket. But every Friday night from September to December, when the Permian High School Panthers play football, this West Texas town becomes a place where dreams can come true. Written with frankness and compassion, H. G. Bissinger chronicles a season and shows how single-minded devotion to the team shapes the community and inspires--and sometimes shatters--the teenagers who wear the Panthers' uniforms.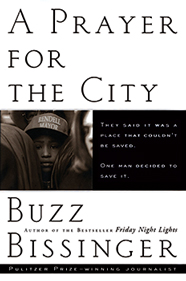 A Prayer for the City
From the Pulitzer Prize-winning author of Friday Night Lights, the heart-wrenching and hilarious true story of an American city on its knees and a man who will do anything to save it.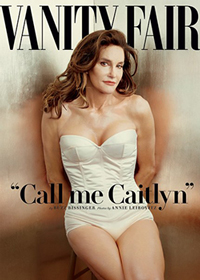 Caitlyn Jenner: The Full Story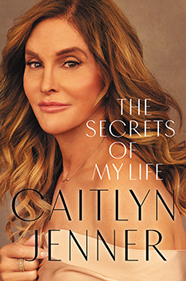 The Secrets of My Life
In THE SECRETS OF MY LIFE, co-authored with the Pulitzer Prize-winning journalist and bestselling author Buzz Bissinger, Caitlyn reflects on the inner conflict she experienced growing up in an era of rigidly defined gender identities, and the cruel irony of being hailed by an entire nation as the ultimate symbol of manhood. She recounts her Olympic triumph, her rise to fame, and relates how her sense of frustration and shame grew with the passing years and the lengths to which she had to go to conceal her true self. Caitlyn in turn uncovers the toll that these personal struggles had on her three marriages and, subsequently, the relationships with her children. She also talks candidly about her life in the public eye as a member of the Kardashian clan, what led to her decision to become Caitlyn, and how she, her family, the transgender community, and the rest of the world has since embraced her new life.

Filled with incredibly personal and moving stories of struggle and victory, of anxiety and fear, and, finally, of surrender and acceptance, THE SECRETS OF MY LIFE reveals the real Caitlyn Jenner by tracing her long and eventful journey to becoming herself.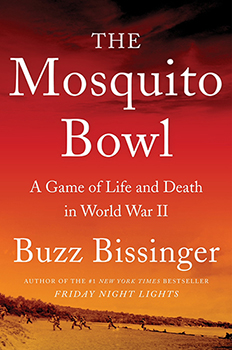 Mosquito Bowl
In his most recent book, Mosquito Bowl, set in the atmosphere of World War Two and Okinawa (240,000 died in 82 days including Americans, Japanese and Civilian) and a group of exceptional Marines who in their previous lives had been exceptional college football players. Two Marine regiments played an improbable football game against each other on Guadalcanal on Christmas Eve of 1944 as close to the real thing as you can get. Three months later they shipped out for Okinawa. Of the 65 who played, 15 were killed.
Buzz Bissinger - Inside Edition's segment
On Buzz Bissinger's Vanity Fair Cover Story on Caitlyn Jenner: 'She Had 10 Hours of Surgery and No More Bruce'
Buzz Bissinger on on The Dan Patrick Show (Full Interview) 6/3/15
The author of the Vanity Fair cover story on Caitlyn Jenner
Buzz Bissinger on his book Father's Day:
A Journey into the Mind and Heart of My Extraordinary Son
Buzz Bissinger: 215 Festival in Philadelphia
The Pulitzer-prize winning author reads from his book A Prayer for the City
Buzz Bisinger on Father's Day and having a disabled son
With his sons discussing his book Father's Day
Buzz Bissinger at The Strand Bookstore 09/29/2015
A Conversation with Buzz and Jane Isay, his editor of the #1 New York Times bestseller Friday Night Lights
Buzz Bissinger in Debate on Banning College Football
BAN COLLEGE FOOTBALL - On WNET-Intelligence Squared U.S.
Praise for A Shooting Stars
"In the Olympics, LeBron was a star, a leader, and the ultimate teammate. He helped our team become a Family. Reading Shooting Stars taught me how he became that kind of a teammate, developing the selflessness and loyalty that define who he is. What an amazing story."
Mike Krzyzewski, Duke University head basketball coach
Praise for A Prayer in the City
"Brilliant and compelling...A Prayer for the City movingly captures the poignancy--the hope and heartbreak--of urban government in America."
Robert A. Caro
Praise for 3 Nights in August
"Superb...a fascinating look inside the managing of a professional baseball team."
John Grisham, The New York Times Book Review.
Praise for Father's Day
"A fiercely honest memoir about the complex hard drive of a son's brain and the balky software of a father's heart. Though his story is singular, Bissinger makes it feel like part of that eternal saga — fathers and sons trying to connect."
J.R. Moehringer, Author of The Tender Bar
"I loved this unflinching, heartbreaking, and ultimately triumphant tale of disability and difference, and what it means to be a father, a son, and a man."
Jennifer Weiner, New York Times-bestselling author of Then Came You and Fly Away Home
"This brave and beautiful memoir gets at the core of what it means to be a parent — how painful it can be, how scary it can get, and how rewarding it is. By facing a challenge that would try any of us, and beat many of us, Bissinger emerges a better man. He not only finds his son, but himself, and the reader finds something, too. After reading Fathers Day, I've rethought my assumptions about what makes a successful and worthy life. Ultimately, this is a mesmerizing story about how we can all be better."
David Sheff, New York Times-bestselling author of Beautiful Boy
"Every father of a special needs child should read this very insightful book."
Temple Grandin, Author of Thinking in Pictures and Animals in Translation
"Buzz Bissinger has given completely of himself in this moving book about his son, Zach, who was born too small, too soon. There is the father's disappointment and guilt, his confusion and frustration, his wonder and love. That Zach has a twin brother, who grew up unscathed, and that Zach's mind is as divided as his father's emotions, makes the story all that more compelling. Father's Day is wonderfully, achingly written, with all the doubt that tells you how truthful it is."
Frank Deford, Author of The Old Ball Game and The Entitled
"Buzz Bissinger's Father's Day is the story of a road trip like no other. Searing and heart-felt, this is not just an unforgettable portrait of a father and his son; it is a love story that speaks to the mystery, pain, and exhilaration of being human."
Nathaniel Philbrick, National Book Award-winning author of Mayflower and The Last Stand
Reflecting On Football And Addiction As 'Friday Night Lights' Turns 25
NPR
Praise for Friday Night Lights
"Friday Night Lights has just about everything you could ask for...atmosphere, excitement and sheer gladiatorial spectacle...a cast of characters so rich that even a novelist (or a screenwriter) couldn't improve on it."
New York Times
"Superb and disturbing....More than a sports book, it's a search for the America of ordinary people."
Newsday
"Excellent and apparently immortal."
Boston Globe
Praise for A Prayer in the City
"A full-scale portrait of a struggling American metropolis that brings to mind such classics of urban reportage and analysis as J. Anthony Lukas's Common Ground and Nicholas Lemann's The Promised Land."
New York Times Book Review
"An extraordinary book, an insider's account of the daily workings of a big-city administration."
New York Review of Books
"A fascinating, humane portrait of the ills of urban America."
The New Yorker
Praise for 3 Nights in August
"Best Book of the Year"
Chicago Tribune, Christian Science Monitor and Rocky Mountain News
Praise for Father's Day
"... as good a description of paternal love as you'll ever read and reason enough to pick up this book for the father or son in your life."
Associated Press
"Riveting . . . Impossible to put down."
New York Times
"Gorgeous and brutally honest . . . As much as this is a book for parents, who know well the crushing vulnerabilities of the job, it is also a story for grown children who understand what it means to love an imperfect parent. Would that we were all as forgiving as Zach. Grade: A"
Entertainment Weekly
"A really good book, no matter what its genre, delivers a level of humanity that is both breathtaking and elemental. In Father's Day, Buzz Bissinger has delivered such a work . . . By telling his own story, Bissinger has given voice to parents of special-needs children everywhere. Moreover, he has given everyone a story of hope, humor and humanity."
Houston Chronicle
"Moving and unflinchingly honest. Bissinger describes his impatience with his son Zach's repetitive routines and his own frustration with his inability to make his son understand certain things. By being so open about his own struggles as a father, Bissinger turns our eye back toward ourselves, prompting, perhaps, a similar honesty in our own self-reflections. Although its subject matter is vastly different from that of the popular Friday Night Lights, readers of that book will note the same keen eye for character and emotion here."
Booklist
"Bissinger may not seem like a likely candidate to pen a tender memoir—but he has."
People
"A great book."
San Francisco Chronicle
"[Bissinger's] greatest accomplishment to date is sharing with the world the inner life of his son Zach . . . The feel-good moments here are rarely sappy or sentimentalized, and it's not giving anything away to tell you that there's no trite happy ending here. What we get instead is something far more beautiful and substantial. We get to know Zach — and ourselves. Every high school in America should add this memoir to its curriculum. Father's Day implores us not only to open our hearts to the mentally challenged people around us, because that goes without saying. It also asks us to take the time to learn what every living soul has to teach us — even the ones who don't fully understand their own gifts. In gaining a new appreciation for his son's unique voice and by sharing it with such intimacy and compassion, Bissinger has done himself, his family, and his readers a tremendous service."
Philadelphia Inquirer
"Visceral, arresting, and frank."
"O" Magazine
"A testament to his searing love for his disabled son."
Boston Globe
"A raw, intimate memoir that holds nothing back . . . Achingly tender."
Seattle Times
"Wrenchingly honest"
Publisher's Weekly