Best known f­or his exploration photography, George Steinmetz has a restless curiosity for the unknown: remote deserts, obscure cultures, the ­mysteries of science and technology. A regular contributor to National Geographic and GE­O Magazines, he has explored subjects ranging from the remotest str­etches of Arabia's Empty Quarter to the­ unknown tree people of Irian Jaya.
Since 1986, George has completed more than 40 major photo essays for National Geographic and 25 stories for GEO magazine in Germany. His expeditions to the Sahara and Gobi deserts have been featured in separate National Geographic Explorer programs. In 2006 he was awarded a grant by the National Science Foundation to document the work of scientists in the Dry Valleys and volcanos of Antarctica.
George has won numerous awards for photography during his 25-year career, including two first prizes in science and technology from World Press Photo. He has also won awards and citations from Pictures of the Year, Overseas Press Club and Life Magazine's Alfred Eisenstaedt Awards, and was named National Geographic's Adventurer of the year in 2008.
Born in Beverly Hills in 1957, George graduated from Stanford University with a degree in Geophysics. He began his career in photography after hitchhiking through Africa for 28 months. His current passion is photographing the world's deserts while piloting a motorized paraglider. This experimental aircraft enables him to capture unique images of the world, inaccessible by traditional aircraft and most other modes of transportation. George lives in New Jersey.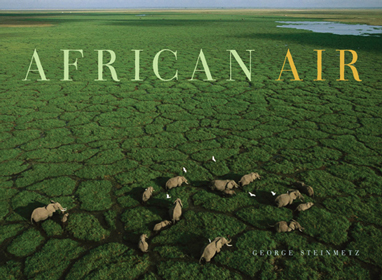 African Air
Flying hundreds, sometimes thousands, of feet above ground strapped into a motorized paraglider that is little more than a parachute with a small motor, National Geographic photographer George Steinmetz has spent more than twenty years photographing some of the most remote and spectacular environments around the world. In African Air, Steinmetz captures stunning panoramas in more than fourteen countries in Africa, giving readers captivating and intimate views of areas that have rarely, if ever before, been photographed. From densely packed urban centers to small, remote villages, from migrating herds of wildebeests and elephants to infinite miles of desert, African Air is a compelling testament and celebration of the majesty and splendor of Africa's most breathtaking landscapes. With extraordinary vision and a unique perspective, Steinmetz portrays sky, land, and water in ways that have never been expressed before.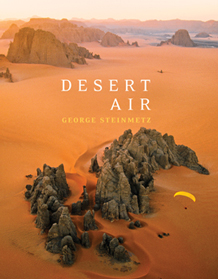 Desert Air
Celebrated exploration photographer George Steinmetz takes his art to a new level in Desert Air, the first comprehensive photographic collection of the world's "extreme deserts," which receive less than four inches of precipitation per year. Steinmetz has spent 15 years on this epic body of work, capturing remarkable and surreally beautiful visions of deserts, from China's great Gobi Desert to the Sahara in northern Africa to Death Valley in California. Much more than a visual journey, these images are enriched by the exciting stories behind Steinmetz's adventures in some of the world's most difficult and challenging areas—from smuggling his paraglider into Libya to getting arrested for spying in Iran, to crashing into a tree in western China. Desert Air reveals extraordinary desert ecosystems that together form a kind of disparate family of coevolved landscapes; similar, yet each unique in its own way.
George Steinmetz: Seeing the World by Paraglider
Nat Geo Live
George Steinmetz: Desert Air (Abrams, 2012)
For the past 20 years George has photographed all of the world's hyper arid regions from an ultra light.
George Steinmetz: African Air
Flying over Africa's vast landscapes in a motorized paraglider, the lightest and slowest powered aircraft in the world.
George Steinmetz: Arabia's Empty Quarter
The Empty Quarter is larger than France without a single permanent point of water or human habitation.
George Steinmetz: International Center of Photography (ICP) Lecture Series, 2014
The National Geographic photographer on his 25-year career illuminating the earth's quickly dwindling secrets.
George Steinmetz: Interview on Canadian Television (CTV), April 2014
Interview by Kevin Newman of CTV in conjunction with Earth Day and Steinmetz's "Desert Air exhibit in Toronto.
George Steinmetz TED: Photographing Africa from a flying lawn chair
Join Steinmetz and discover surprising historical, ecological and sociopolitical patterns that emerge when you go low and slow in a flying lawn chair.