With more than 35 years of experience as a scientist, farmer, philanthropist, businessman, educator, and passionate advocate, Oran B. Hesterman is a national leader in sustainable agriculture and food systems and is a respected partner for policymakers, philanthropic leaders, and advocates nationwide.
He is the founder and currently serves as president and CEO of Fair Food Network, a national nonprofit pioneering multi-win solutions that increase access to healthy food in our most underserved communities, support farmers, and stimulate economic activity. In just five years, Fair Food Network's signature program, Double Up Food Bucks, has become a national model for healthy food incentives.
Hesterman's 2011 book, Fair Food: Growing a Healthy, Sustainable Food System for All, provides an inspiring guide to changing not only what we eat, but how food is grown, packaged, delivered, and sold. Fair Food was heralded by The New York Times as "an important, accessible book on a crucial subject" and is required reading at more than 25 colleges and universities across the country.
Before launching Fair Food Network, Hesterman led the W.K. Kellogg Foundation's Integrated Farming Systems and Food & Society programs, during which time he seeded the local food systems movement with more than $200 million in investments. Prior to his work in philanthropy and nonprofits, Hesterman researched and taught forage and cropping systems management and sustainable agriculture at Michigan State University.
A former fellow in the Kellogg National Fellowship Program and the National Center for Food and Agriculture Policy in Washington, D.C., Hesterman has published more than 400 reports and articles on subjects ranging from crop rotation to the impact of philanthropy on food systems practice and policy and trends in the good food movement. He currently serves on the board of a number of national and Michigan-based organizations including FoodCorps, Hazon, and Michigan Land Use Institute.
Hesterman is a native of Berkeley, California. He earned his bachelor's and master's degrees from the University of California – Davis. He completed his Ph.D. from the University of Minnesota in agronomy, plant genetics, and businesses administration. He lives with his wife Lucinda Kurtz in Ann Arbor, Michigan, where he still gets his hands dirty in his garden and at the potter's wheel.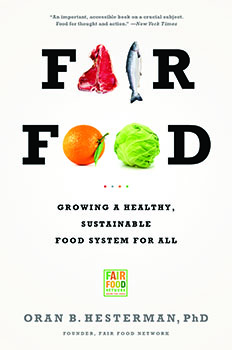 Fair Food
We have a food system that is really reaching a crisis point, whether we look at symptoms of this broken system that are chemical runoff in our waterways, spiraling rates of obesity, the number of food deserts where people cannot access healthy fresh food, or concentration that puts 80% of all of our meat packing into the hands of four companies. FAIR FOOD: Growing a Healthy Sustainable Food System for All, is not a book primarily about the problems of our broken food system, it is a book about solutions."
See More
CNN: Oran Hesterman Interviewed by Dr. Sanjay Gupta
CNN: Oran Hesterman Interviewed by Dr. Sanjay Gupta
Oran Hesterman
Speaking About his book Fair Food
Fair Food
"Level the playing field with the next generations of Americans by adopting what Fair Food and Hesterman promotes. With Fair Food we will be able to apply a solution to one problem in our broken food system at a time."
Edible Buffalo
"[Hesterman] displays a wide-ranging knowledge of production, consumption, natural resources and public policy. He also writes about reform efforts with contagious energy and palpable authority...this is an important, accessible book on a crucial subject. Food for thought and action."
New York Times (Business Day)
"Hesterman's upbeat outlook and gentle push toward activism inspired me to further my own engagement. His book is one of the best I've read on how we as individuals can be involved in the future of America's food system."
Serious Eats
"Unless you travel in food policy or agronomy circles, you probably haven't heard of Oran Hesterman. It's time you had. Hesterman, who runs the Ann Arbor, Michigan-based nonprofit Fair Food Network, has written a book that just might wake you up and get you to care about what's going on with the food you eat and how it gets to your table. Fair Food: Growing a Healthy, Sustainable Food System for All is what Hesterman is talking about, and I've got to admit, this reporter covering food news cracked open his book (which landed in bookstores yesterday) a tad wary. Would this highly educated and well-meaning agronomist-activist guy really offer anything new to the sustainable food conversation, I wondered, and more importantly, would he speak to regular people trying to feed their families in a tough economy and who might not understand the difference between grass and grain-fed (or why it matters)? Boy was I wrong and thrilled to stand corrected. Hesterman breaks free from a tradition of densely written, muddled prose intended for inside baseball players and instead speaks to us all, loud and clear."
Civil Eats
"Timely and inspiringly optimistic, Fair Food challenges and guides readers toward sustainability and health, for themselves and their communities."
Ode Magazine
"Fair Food covers a lot of territory, which also means it doesn't dive too deeply into any one subject. He touches on everything just enough to enhance the reader's understanding, but not enough to be hard hitting on many of the topics he cares most about. And that seems to be the point. This book is not intended to serve as an encyclopedia for the food movement, but more of a practical guide for concerned citizens and budding activists. It fails to conjure up some of the emotions similarly positioned books do, but doesn't leave you wondering "what can I do to change things?" Hesterman's goal for Fair Food is not to shock the masses, but to mobilize them to action."
Next American City website
"Intended as a practical guide for community food activists who want to take the locavore movement across race, class, and city lines, this book illuminate ways in which consumers can become "engaged citizens." Especially important (and rare) is Hesterman's willingness to work constructively with corporate giants like Costco and the Kellogg Foundation….The dedication to social justice is clear, genuine, and logically argued as a food issue. A helpful and hefty final chapter of "Resources" provides readers with a comprehensive national listing of organizations to join, support, or replicate."
Publishers Weekly