Lexie Bean is a queer and trans multimedia artist from the Midwest. Their work in film, literature, and curation revolves around themes of bodies, homes, cyclical violence, and LBTQIA+ identity.
From creating their Lambda Literary Finalist anthology, Written on the Body, to speaking at schools across the country with the Transparency Speaking series, to developing The Ship We Built, Lexie's work focuses on transgender survivors of domestic violence and sexual abuse.

Their storytelling career began when they self-published their first anthology full of letters that people wrote to their body parts. They have been interviewed by and written for a large number of publications, including Teen Vogue, Ms. Magazine, The New York Times, Bitch Magazine, Them, Bust Magazine, Huffington Post, Logo's New Now Next, Autostraddle, The Establishment, Lambda Literary, The Feminist Wire, Toi Magazine and more. Their writing has also been transformed into two experimental films, Full and Trans Boy Remember, both of which have played at festivals across Europe.
Their essays, poems, books, and short films have also been presented at a range of venues, including the famous Bluestockings and The Strand in NYC, the Detroit Institute of the Arts, MitSprache: The German Council of Victims and Survivors' Expert Committee of the Independent Commissioner for Child Sexual Abuse Issues, as well as barns, blackbox theaters, cafeterias, universities through international tours of creative writing workshops, speaking engagements, and performances inspired by their three anthologies. With this, Lexie has been in partnerships with countless transition homes, rehab centers, and non-profits, such as Black & Pink, RAINN, Home in Budapest, and Slutwalk Johannesburg and have received additional support from the Sundress Writing Residency and Retreat for Survival and Healing in Knoxville, the Gibney Dance Institute for Community Action Training in New York, the Jane Hoppen Residency at Paragraph New York, and the Bookshop Santa Cruz Residency at the Wellstone Center in the Redwoods.
Lexie is also a long-term member of ACT OUT at THE STUDIO, a hub of up-in-coming LGBTQIA+ performers that have been featured in HBO's Vice, The New York Times, Forbes, and the Tribeca Film Festival. Currently, Lexie is preparing for the launch of The Ship We Built and adapting it into a feature-length screenplay. Lexie is also available for writing workshops utilizing prompts based on The Ships We Built.
Also visit our webpage for the panel featuring Lexie and two other trans contributors to Written On The Body: TRANSparency: Speaking Our Truths. Additionally, you can schedule CREATING FROM PAIN: A Writing Workshop on Storytelling and Our Bodies facilitated by the panelists.
SPEAKING TOPICS & DESCRIPTIONS: The Ship We Built
The Ship We Built: On Resilience, Doubt, and Queer Children in the #MeToo Movement
There are many reasons to repeat abuse, to forget it happened, to never forget it happened. According to the US Department of Justice, approximately 1.8 million adolescents in the United States alone have been the victims of sexual assault. Many likely go unreported. Meanwhile, the National Center for Victims of Crime has found that children who had an experience of rape or attempted rape in their adolescent years were 13.7 times more likely to experience rape or attempted rape in their first year of college. Like many, Lexie Bean is a survivor of childhood sexual abuse and continued to experience it in new ways as an adult, as well as after coming out as transgender. The Ship We Built, their debut novel, is a gift to their nine year old self. Everything they wished they had known when they had made the decision to stop speaking at a young age, as well as all they wish they knew when coming out as many letters under the LGBTQIA+ umbrella. Like the book's protagonist, Rowan, Lexie experienced a lot of doubt as to whether their reality was theirs, whether their body was theirs, whether their future was theirs. This discussion on loss and the struggle to find home weaves in excerpts from The Ship We Built.

The Ship We Built: On Regionalism, Addiction, and Queer Love
Have you ever thought, "I can't feel this way here?" With a majority of representation, resources, and dialogue for LGBTQIA+ people sanctioned to the coasts of the United States, The Ship We Built takes place in what's caught in between. The place that holds fear, a broken Rust Belt, and the country's highest rates of addiction - the Midwest. When we love in the "wrong ways" in the "wrong places," there is a need to hide it. Lexie Bean, a Midwesterner and trans author of The Ship We Built, shares excerpts from their debut novel describing queer love. We explore misunderstood love that's at times dangerous, and at other times celebrated in secret, in codes, or loudly. We explore the urge to go far away, to places we've only seen on TV, like New York. We also explore nature and places queer people find safety and joy within their own often misunderstood backyards.
The Ship We Built: Story Time and Safety in Unexpected Places
A hour of whimsical narrative to offer the comfort that the protagonist of The Ship We Built sought in his own everyday life. The author, Lexie Bean, will read book excerpts on the beauty of queer love, nature, night time, and finding the moon. Each event will include marshmallows, twinkle lights, and boxes like that of the best days in the book. This event is ideal for trying times, softness in the most hectic parts of the year, and for those who need reminders of queer joy.
The Ship We Built: On Masculinity, Trauma, and Trans Boys
According to the American Society of Pediatrics, more than 50% of trans boys have attempted suicide. In The Ship We Built, the protagonist often struggles with his own ability to survive his own masculinity after surviving abuse from his father. He is overcome with fear of becoming the person who has hurt him the most of all. Over the course of the book, Rowan frequently regrets his trans-ness until he finds other masculine or gender non-conforming role models. This is based off the experience of Lexie Bean, who continues to struggle with their own masculine traits and what they are moving "towards" in their own gender transition. This conversation is an opportunity to create dialogue with men, trans and cis, about their fears and questions on their own becoming.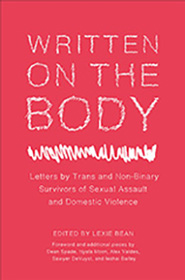 Written On The Body
Written by and for trans and non-binary survivors of domestic violence and sexual assault, Written on the Body: Letters from Trans and Non-Binary Survivors of Sexual Assault and Domestic Violence, edited by Lexied Bean, offers support, guidance and hope for those who struggle to find safety at home, in the body, and other unwelcoming places.
TRANSparency: Speaking Our Truths is a Panel Conversation with three Trans Survivors of Domestic and Cultural Assault who contributed to the book.
This collection of letters written to body parts weaves together narratives of gender, identity, and abuse. It is the coming together of those who have been fragmented and often met with disbelief. The book holds the concerns and truths that many trans people share while offering space for dialogue and reclamation.
Written with intelligence and intimacy, this book is for those who have found power in re-shaping their bodies, families, and lives.
The Ship We Built
ABOUT THE SHIP WE BUILT
Tender and wise, The Ship We Built is about the bravery it takes to stand up for yourself–even to those you love–and the power of finding someone who treasures you for everything you are.

Sometimes I have trouble filling out tests when the name part feels like a test too. . . . When I write letters, I love that you have to read all of my thoughts and stories before I say any name at all. You have to make it to the very end to know.

Rowan has too many secrets to write down in the pages of a diary. And if he did, he wouldn't want anyone he knows to read them. He understands who he is and what he likes, but it's not safe for others to find out. Now the kids at school say Rowan's too different to spend time with. He's not the "right kind" of girl, and he's not the "right kind" of boy. His mom ignores him. And at night, his dad hurts him in ways he's not ready to talk about yet.

But Rowan discovers another way to share his secrets: letters. Letters he attaches to balloons and releases into the universe, hoping someone new will read them and understand. But when he befriends a classmate who knows what it's like to be lonely and scared, even at home, Rowan realizes that there might already be a person he can trust right by his side.
Resource Review: Written on the Body: Letters from Trans and Non-Binary Survivors of Sexual Assault and Domestic Violence. Edited by Lexie Bean. Jessica Kingsley Publishers, 2018.
Books that address trans and non-binary individuals' experiences with sexual assault are still few and far between, given that half of our community fits that demographic.
That's only part of what makes Written on the Body: Letters from Trans and Non-Binary Survivors of Sexual Assault and Domestic Violence so critical. Another reason is its unusual focus: most of the entries are written as a letter to a part of each author's body. Given that bodies are integral to both trans/non-binary identities and sexual assault, this narrowed focus provides a wealth of insights. Feet, rib, back of the neck, voice, hands, dimple, "to the one hair that grows out of my cheek": each is recognized with a story about who they are, what they symbolize, the role they've played in each survivor's life. Some of the stories are about transness, some of the stories are about abuse and trauma, and many are about both.
A Wide-Open Letter to My Mouths is one of the longer and more explicit letters, describing both healing and traumatic sexual experiences. Others are short and poignant:
Dearest Skin,
Despite the art I have carved into you, you provide me with an impeccable memory.
I know of all of the places I've hurt and been hurt, and I won't forget them.
Some write of body parts that exist no more, and some write of new ones. Sometimes these transformations are asked to be magical: The author of "To my humble front entrance" finishes their letter with "Maybe it's best if you just disappear like I used to pray you would as a child. I doubt it'll be the case but I hope you can take the nightmares with you." Another wrote of her surprise when she found that "all the pains and bruises" her penis had sustained transferred to her new vagina; she had thought they would be left behind. Clearly a work in progress, the letter ends, "I still haven't figured you out yet and that's ok."
One of the book's surprises is that most of the pieces are anonymous. Authors are listed on a back page, but not associated with the letter(s) they wrote. This structure preserves privacy, but it also somehow forces the reader into a more intimate relationship with the letter and the body part(s) to which it's addressed. There's no name, no gender identity (often), no biography to situate the letter and body part(s) within a particular life. Instead, the body part(s) stand alone, telling only the story the author chose to share. It heightens the impact, somehow.
Another surprise is the correspondence between Alex Valdes and Lexie Bean that helps open the book. This is a very special conversation. Each asks the other a question, building upon the answers. "When do you feel safe?" becomes "When did you find your trust again? Did you ever lose it?" "What do you cover under covers?" becomes "Where is your voice when you can't find it in your breath?" It's the kind of correspondence most of us wish we could have with someone special. Maybe this book will inspire you to find that someone.
Lexie Bean has edited two previous anthologies of letters, Attention: People with Body Parts and Portable Homes.
KIRKUS REVIEW: "Everyone should read this remarkable, affecting novel."
10-year-old transgender boy sends letters via balloon, hoping someone out there will read them.
It's 1997, and Rowan is starting fifth grade. He knows he's a boy, but no one else understands. He called a girl "cute" during truth or dare, and now he's a social pariah. His dad comes into his room at night, but he's not ready to talk about that yet. He's sorry for being weird. Bean vividly and sensitively captures the struggle of being a child who just can't fit in and doesn't understand why. It is an authentic portrayal of childhood pain without an ounce of condescension. Over the course of the school year, Rowan, who is presumed to be White, and his new best friend Sofie, who appears to be Black, struggle to make sense of what is right and wrong, good and bad in their working-class Michigan world. While the book tackles big issues, primarily addressing being trans and queer and surviving incest as well as touching on parental incarceration, anyone who has ever been a sad or confused child will be able to see a little bit of themselves in Rowan and Sofie. And if the author leans a bit heavily on the unnecessary crutch of '90s references, at least it increases the book's appeal for both young retro-enthusiasts and nostalgic adults—and this is one of those rare middle-grade books with real adult appeal.
Everyone should read this remarkable, affecting novel. (author's note, resources, acknowledgements) (Historical fiction. 10-14, adult)