Todd Brewster is a journalist (Time, ABC News) and historian, a NYT #1 bestselling author (The Century) and an eminent professor of journalism. His most recent book is Seen and Unseen: Technology, Social Media and the Fight for Racial Justice, co-authored with Temple University's Marc Lamont Hill. In his new lecture, SEEN AND UNSEEN: The Impact of Technology and Social Media On The Fight For Racial Justice, a multi-media lecture, and audience discussion, Brewster reveals the consequences of our shifting media on race. He shows how the cellphone and social media have democratized technology, exposing racial injustice, even as they have also bridged communities heretofore unconnected, and established a definitive record, one carrying disturbing truths. Brewster uses historic imagery ("The Birth of a Nation," iconic photojournalism) to show how the media have always played a defining role in the story of race, and he utilizes modern media — video, stills, Tweets and memes — to explain the lasting impact of America's recent racial incidents in places like Kenosha, Charlottesville, and Minneapolis. Are we a different people because we saw video of George Floyd being crucified by a Minneapolis police officer? Brewster thinks we are, and deep his analysis of that video may well show you what you did not see.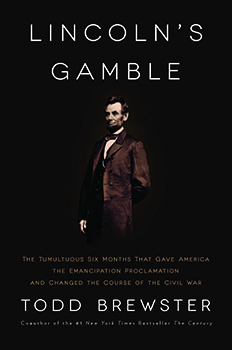 Lincoln's Gamble
On July 12, 1862, Abraham Lincoln spoke for the first time of his intention to free the slaves. On January 1, 1863, Lincoln signed the Emancipation Proclamation, doing precisely that. In between, however, was a tumultuous six months, an episode during which the sixteenth president fought bitterly with his generals, disappointed his cabinet, and sank into painful bouts of clinical depression. Todd Brewster focuses on this crucial time period to ask: was it through will or by accident, intention or coincidence, personal achievement or historical determinism that he freed the slaves?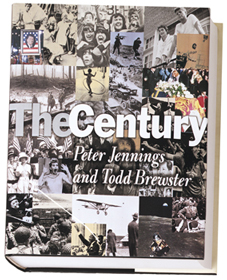 The Century
What was it like to watch the Wright Brothers soar into the sky, hear the first crackling voice aired on radio, cower in the ghastly trenches of Europe during World War I, lose everything in the stock-market crash, or experience the birth of rock and roll? For the past seven years, researchers, reporters, and producers for ABC News have searched the world's archives for the rarest and most stunning photographs and images, consulted eminent twentieth-century historians, and discovered and interviewed hundreds of eyewitnesses and participants in the significant moments of the most eventful one hundred years in human history. The result is this spectacular book, co-written by ABC News Anchor Peter Jennings and Senior Editorial Producer Todd Brewster. The Century presents history as it was lived, and as it will be remembered for the next hundred years. Here is a keepsake volume destined to be an essential part of every family's library: an epic journey through the last hundred years, whose heroes are our grandparents, our parents, ourselves.
Todd Brewster's Lecture on Lincoln's Gamble (April 16, 2015)
The Tumultuous Six Months that Gave America the Emancipation Proclamation and Changed the Course of the Civil War
The Century editorial reviews
"...one can almost imagine Jennings reciting from these pages as he hosts the ABC/History Channel documentaries to which this book is a companion piece."
Amazon.com Review
"...will make a splendid addition to anyone's bookshelf."
Publishers Weekly
"A hefty, profusely illustrated and easy-to-read survey of the 20th century...It will add much to the growing literature of the past century brought on by the millennium, and will provide ideas for many a research paper."
Susan H. Woodcock, School Library Journal
"Bound to be a big hit. In 12 chapters, the entire century is spanned in a very readable prose style. While several similar books have appeared recently...libraries will probably want this one."
From Library Journal
"Lavishly illustrated survey of the twentieth century--coauthored by ABC News anchor and senior editor Jennings ... it should have broad appeal."
"A particularly handsome and visually provocative work...The best available visual summary of the century."
From Kirkus Reviews